Durham Single Family House
This is a Remodeled Home that has undergone many new features in 2019, including a new granite counter top, Stainless Steel appliances: New refrigerator, new stove, new microwave, new dishwasher. Expanded large 12 ft by 20 ft back deck provides elevated view of expansive back yard. New front entry design and layout with freshly paved walkway and lighting. New vinyl siding. Lawn re-seeded and fertilized this in May-April after grading and transplanting. There is also a new submersible pump to the drilled well for better economy and water pressure. The driveway was also re-paved in July of 2019
The inside is a split level ranch with two-car garage under and finished living area on both floors. Appr. 1800 sqft.
Upper floor has a large open concept living room, kitchen, and dining room. HDMI wired and multi cable hook ups in living room. First floor has common full bath, hallway closet with networking and cable hookups for modem and Internet. Upper floor includes master bedroom with master bath, 2nd and 3rd bedrooms. All new carpet and baseboard trim in the upper floor from the bedrooms to the living room, while the kithcen and dining area have hardwood floors and a raised butcher block barstool area. Recessed can lighting and lots of windows to provide natrual light. Bedrooms have LED light fixtures.
Lower floor has a large family room with laminate floors, with a fireplace and an entertainment wall with two large closets. Lower Floor half bath off of family room includes a tiled shower, heat lamps, and laundry hookups. Coat closet and storage under stairs. The two-car garage is huge with a lot of storage space and built-in shelves. 75% of this house has new plumbing. Many LED lights and can fixtures on the lower floor as well. Heating by propane-fueled, forced hot water boiler in an insulated utility room. The water heater has a new heater coil as of July 2019. Private water and Private septic.
This property is minutes from the amazing downtown of Durham and Newmarket in the Wedgewood neighborhood of Durham and very close to University of New Hampshire. Easy access to Seacoast activities and Great Bay.
Broker interest in property.
Sold October 2020


3 Bedroom

3 Bathrooms

Master Bed with master bath

Laundry Hookups in downstairs 1/2 Bath

All new appliances in kitchen

New granite countertop in kitchen

Brand new expanded rear deck


Cable and Cat5 Network to all Bedrooms
New Vinyl Siding - June 2019


New Driveway - June 2019

New submersible private well pump, May 2019


New mouldings and trim throughout

New carpet upstairs

New front entryway and lighting.

2-car attached garage w/ network and cable H/U

Forced Hot Water baseboards, propane fueled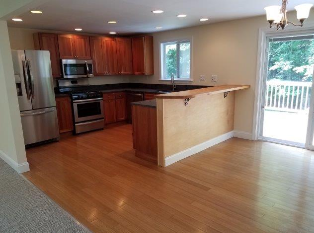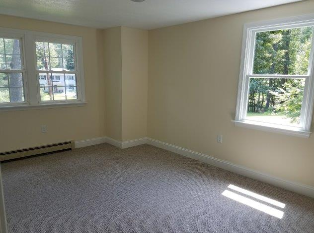 Lower level family room with fireplace and entertainment wall and closets.
Lower Level 1/2 Bath with laundry hookup
Master Bedroom

Master 3/4 Bathroom
Common Hall Full Bath
w/ black vanity
Second Bedroom (above) Third Bedroom (below)
The property is located close to Downtown Durham, Newmarket, and Great Bay.